https://www.alex-jona.com/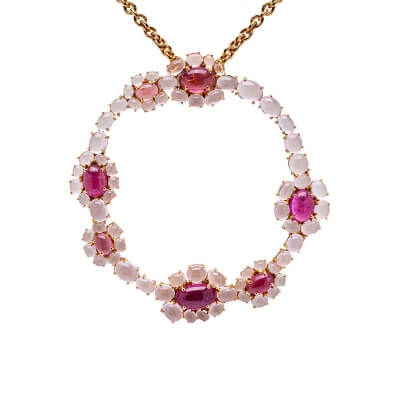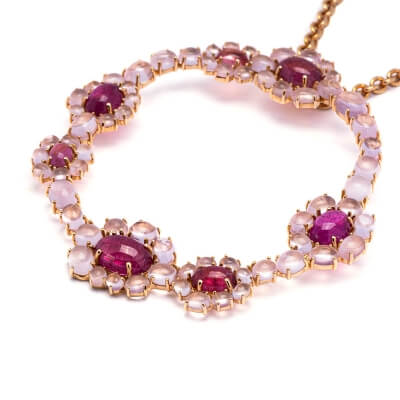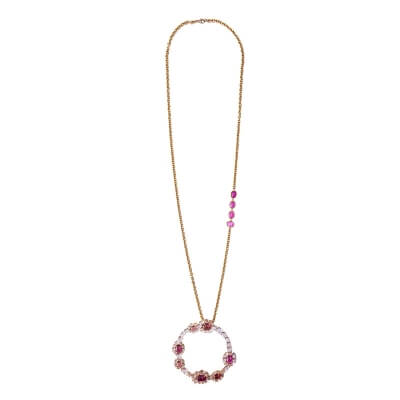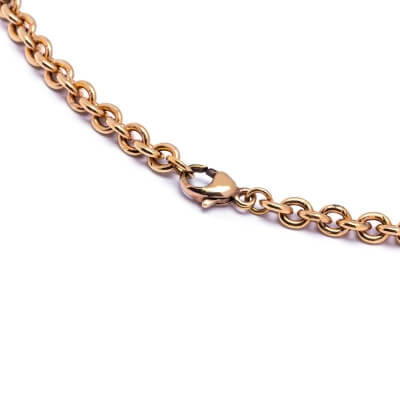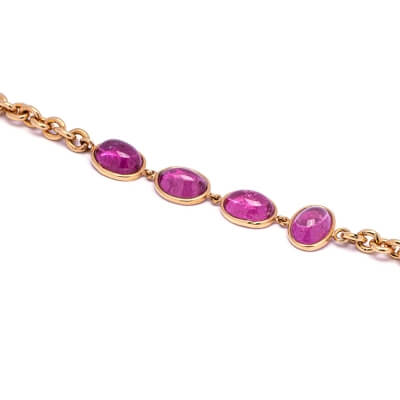 Rubellite Tourmaline Burmese Moonstone Rose Gold Pendant Necklace
Jona design collection, hand crafted in Italy, 18 karat rose gold chain pendant necklace set with  25.46 carats of Burmese moonstone and 18.29 carats of pink tourmalines.All Jona jewelry is new and has never been previously owned or worn. Each item will arrive at your door beautifully gift wrapped in Jona boxes, put inside an elegant pouch or jewel box.
Dimensions
Width: 0.71 in. (18 mm)
Length: 33.08 in. (840 mm)
Gemstones
Burmese Moonstone: weight 25.46 carats in total, oval cut
Pink Tourmalines: weight 18.29 carats in total, oval cut
Weight: 30.5 gr
This one-of-a-kind piece has been hand manufactured by trusted and highly qualified craftsmen according to the best Italian goldsmith tradition using the latest technology. Alex Jona hallmark 404TO guarantees the origin of the product and the precious metal content is confirmed by the official gold hallmarks.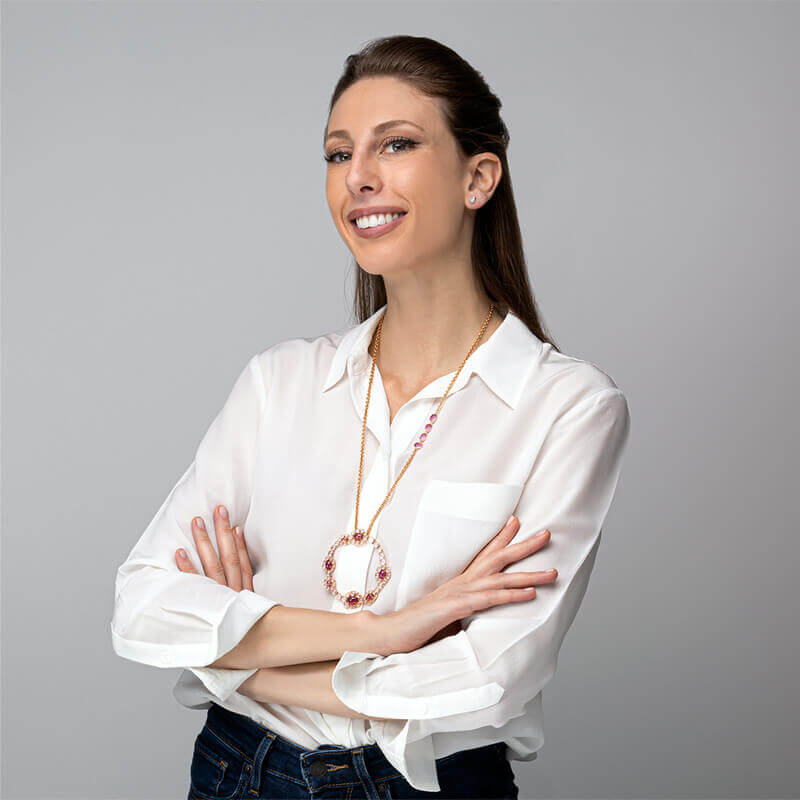 18 Karat Rose Gold
18k (75%) gold is the purest form of gold used for jewelry (pure 100% gold is 24 karats by definition). 18k means that 18 out of the 24 parts that make up the gold are pure gold. The most common hallmark stamps for 18 karat gold are 18K or 750 that indicate 75% gold purity. Rose gold is an alloy also known as pink gold and red gold. Although the names are often used interchangeably, the difference between red, rose, and pink gold is the copper content: the higher the copper content, the stronger the red coloration. 18K red gold means 75% gold and 25% copper. 18K rose gold means 75% gold, 22.25% copper and 2.75% silver. 18K pink gold means 75% gold, 20% copper, 5% silver.
Pink Tourmaline
Tourmalines come in a wide variety of exciting colors. In fact, tourmaline has one of the widest color ranges of any gem species, occurring in various shades of virtually every hue. Single color tourmalines are rare as most crystals have more than one shade. Tourmaline can be dichroic, meaning some stones appear to change color when angled. Tourmaline is durable, rating a 7 to 7.5 on the Mohs Scale. Rubellite is a name for pink, red, purplish red, orangy red, or brownish red tourmaline, although some in the trade argue that the term shouldn't apply to pink tourmaline.
Moonstone
A ghostly sheen moves under the surface of this feldspar, like moonlight glowing in water. Moonstone's delicate beauty and its long-established heritage make it perhaps the most familiar gem-quality member of the feldspar group. Feldspars are the most widespread minerals in the earth's crust, as well as some of the most diverse. You can pick up a rock anywhere in the world, and you'll probably find that it contains a mineral or two from the feldspar group. Moonstone is a variety of the feldspar-group mineral orthoclase. During formation, orthoclase and albite separate into alternating layers. When light falls between these thin layers it is scattered producing the phenomenon called adularescence. Adularescence is the light that appears to billow across a gem. Other feldspar minerals can also show adularescence including labradorite and sanidine.