Trillion Cut Green Tourmaline Yellow Gold Dome Ring
18 karat yellow gold ring set with a trillion cut intense Green Tourmaline weighing 6.13 carats. 
Dimensions
Height: 0.96 in. (24.39 mm)
Width: 0.84 in. (21.34 mm)
Depth: 0.50 in. (12.7 mm)
Gemstones
Green Tourmaline: weight 6.13 carats, trillion cut
Weight: 13.53 g
This one-of-a-kind piece has been hand manufactured by trusted and highly qualified craftsmen according to the best Italian goldsmith tradition using the latest technology. Alex Jona hallmark 404TO guarantees the origin of the product and the precious metal content is confirmed by the official gold hallmarks.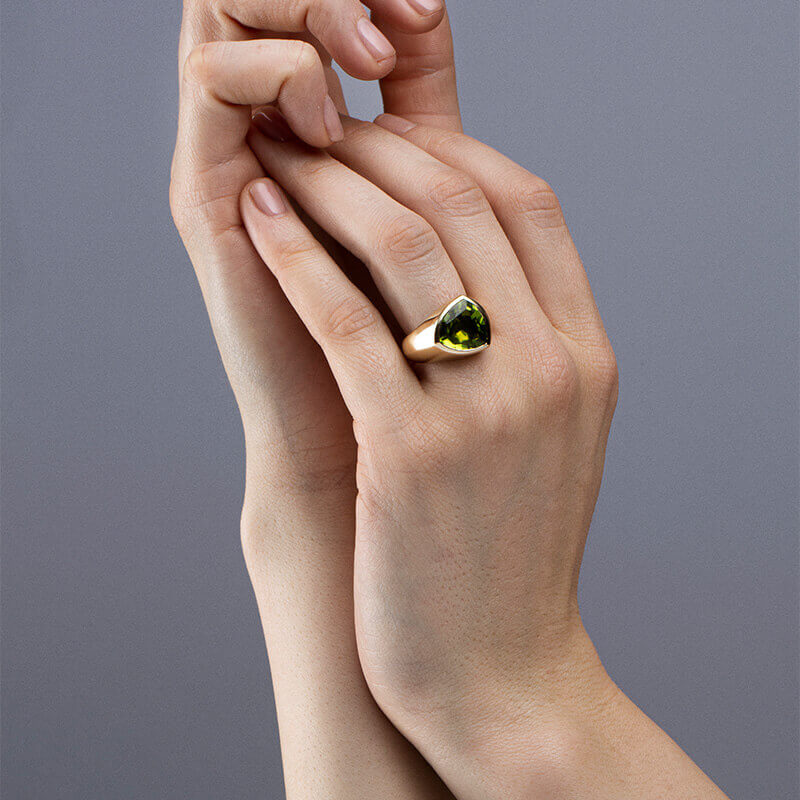 18 Karat Yellow Gold
18k (75%) gold is the purest form of gold used for jewelry (pure 100% gold is 24 karats by definition). 18k means that 18 out of the 24 parts that make up the gold are pure gold. The most common hallmark stamps for 18 karat gold are 18K or 750 that indicate 75% gold purity. 18k yellow gold is an alloy made up of 75% pure gold and 25% alloy (12.5% copper, 12.5% silver).
Green Tourmaline
Tourmalines come in a wide variety of exciting colors. In fact, tourmaline has one of the widest color ranges of any gem species, occurring in various shades of virtually every hue. Single color tourmalines are rare as most crystals have more than one shade. Tourmaline can be dichroic, meaning some stones appear to change color when angled. Tourmaline is durable, rating a 7 to 7.5 on the Mohs Scale. Chrome tourmaline is intensely green. In spite of its name, it's colored mostly by vanadium, the same element that colors many Brazilian and African emeralds.