Enjoy complimentary shipping on all orders
https://www.alex-jona.com/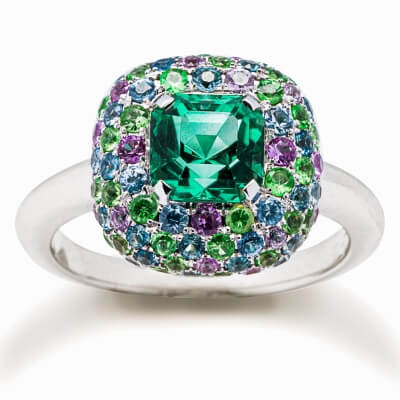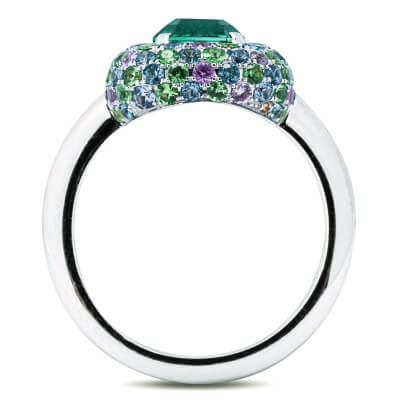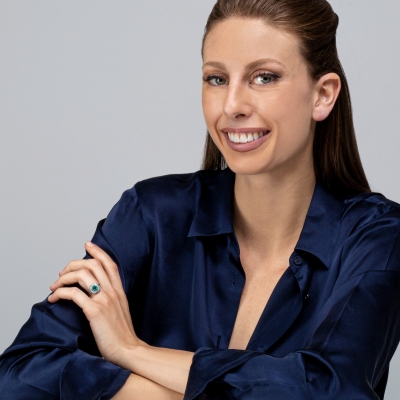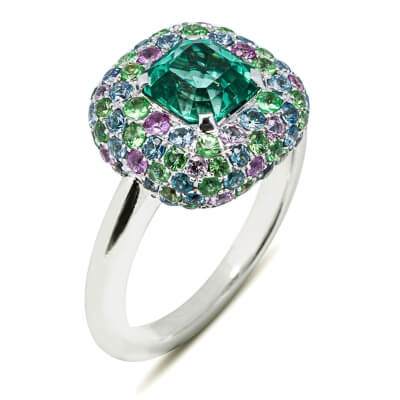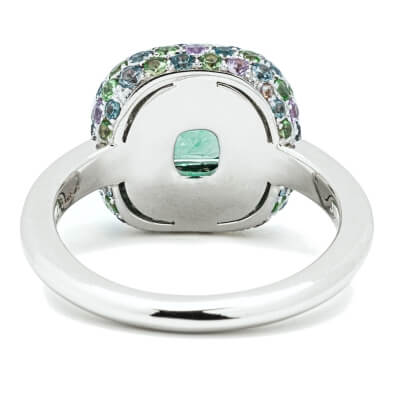 Laguna Blu Ring
This outstanding one-of-a-kind 18 karat white gold ring, is centering a Neon Lagoon Tourmaline weighing 1.41 carats, surrounded by a mix pavé of blue sapphires weighing 0.65 carats, pink sapphires 0.34 carats and tsavorites 0.61 carats.
Dimensions
Height: 0.97 in. (24.64 mm)
Width: 0.83 in. (21.09 mm)
Depth: 0.50 in. (12.7 mm)
Gemstones
Neon Lagoon Tourmaline: weight 1.41carats, cushion cut
Blue Sapphire: weight 0.65 carats in total
Pink Sapphires weight 0.34 in total 
Tsavorite: weight 0.61 carats in total
Weight: 5.08 gr.
This one-of-a-kind piece has been hand manufactured by trusted and highly qualified craftsmen according to the best Italian goldsmith tradition using the latest technology. Alex Jona hallmark 404TO guarantees the origin of the product and the precious metal content is confirmed by the official gold hallmarks.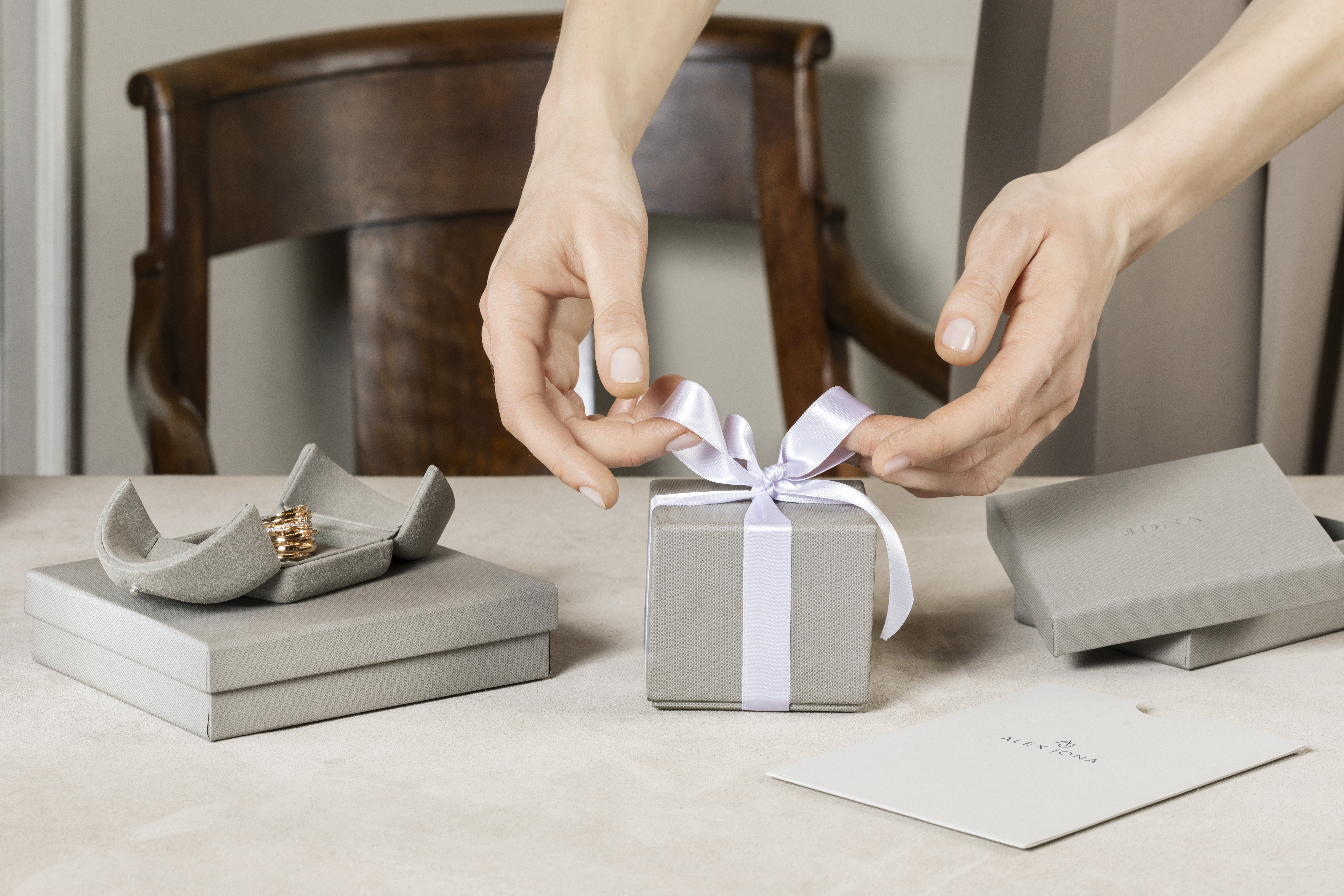 18 Karat White Gold
18k (75%) gold is the purest form of gold used for jewelry (pure 100% gold is 24 karats by definition). 18k means that 18 out of the 24 parts that make up the gold are pure gold. 18k white gold is an alloy made up of 75% pure gold and 25% palladium. 
Rhodium Plating
Rhodium comes from the platinum family and is a noble and durable metal which features a bright white color. Rhodium plating is used on silver, gold and copper gives an off-white color, creating a bright mirror-like finish. 
More benefits of rhodium plating include enhanced brightness, scratch and tarnishing resistance. It is also hypoallergenic and nickel-free. 
Neon Lagoon Tourmaline
Tourmalines come in a wide variety of exciting colors. In fact, tourmaline has one of the widest color ranges of any gem species, occurring in various shades of virtually every hue. Single color tourmalines are rare as most crystals have more than one shade. Tourmaline can be dichroic, meaning some stones appear to change color when angled. Tourmaline is durable, rating a 7 to 7.5 on the Mohs Scale. Paraíba is an intense violetish blue, greenish blue, or blue tourmaline from the state of Paraíba, Brazil. Since it was discovered in the late 1980s, Paraíba tourmaline's striking neon blues and greens have electrified the gem world. The gem's unique, vivid coloring instantly set it apart from other tourmalines.
Pink Sapphire
Pink sapphires belong to the corundum family of minerals. They contain traces of iron, titanium, magnesium, copper and chromium that help determine its color. The higher the chromium content, the deeper the pink hue. In some cases, it's difficult to distinguish a pink sapphire from a ruby. Only a gemologist will be able to make this distinction. The leading producer of natural pink sapphires is Madagascar. Pink sapphires were considered incredibly rare prior to the 1990s when the Madagascar mines were discovered. Pink sapphire mines are also present in Myanmar, Sri Lanka and East Africa.
A pink sapphire's place of origin doesn't usually impact its price or value. Many cultures and people believe pink sapphires symbolize trust, loyalty and sincerity. They're also believed to carry good fortune and intense love.The increase in popularity of pink sapphires has sparked the number of pink sapphire engagement rings on the market. Many brides prefer the unique, feminine color to a white diamond or blue sapphire. For weddings with a blush or baby pink color scheme, pink sapphires are the perfect compliment.
Blue Sapphire
Sapphires are, together with Rubies, the most popular gem varieties of Corundum. With a Mohs scale rating of 9, Corundum is the second hardest mineral, second to diamond. Sapphire is any color of corundum except red (Rubies are red corundum). Vivid, transparent blue is the most rare and prized color. Stones from Kashmir or Burma are often fine quality and are highly coveted. As with rubies, some cabochon cut stones exhibit a cat's eye or 6-rayed star. With a rating of 9 on the Mohs Scale, sapphires are extremely durable and ideal for jewelry. As September's birthstone, the sapphire symbolizes truth, love, wisdom and generosity.
Tsavorite
A variety of garnet, Tsavorite can be light to dark green and is named after Tsavo East National Park in Kenya. It has an hardness of 7-7.5 on the Mohs scale..