Enjoy complimentary shipping on all orders
https://www.alex-jona.com/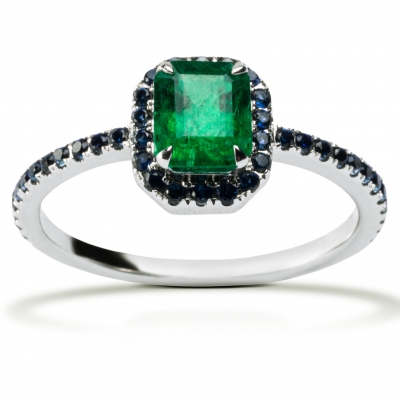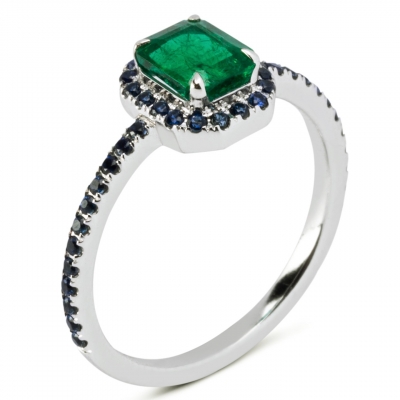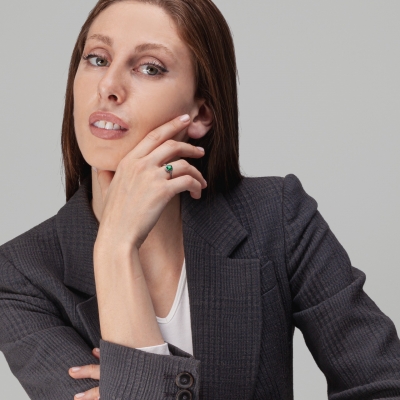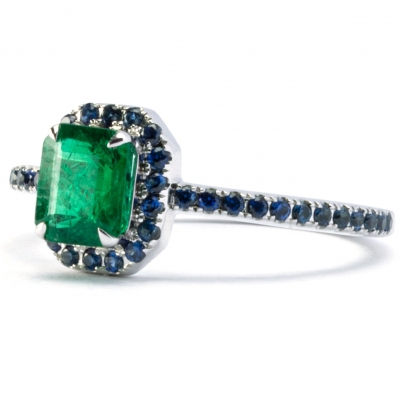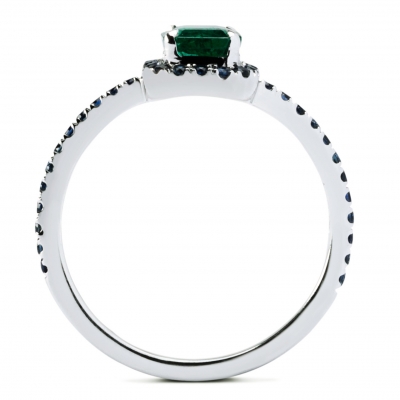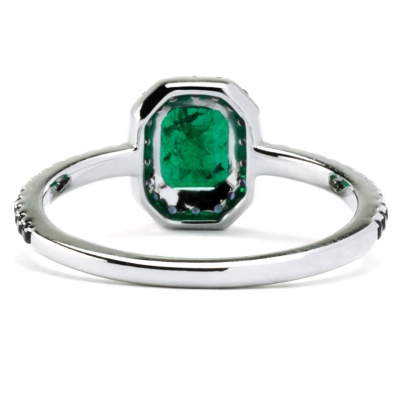 Como Ring
This mesmerizing 18 karat white gold solitaire ring, is centering an emerald cut Colombian Emerald weighing 0.85 ct. . The emerald and the shoulders are enhanced with 42 blue sapphires weighing in total  0.37 carats.
This piece has been hand manufactured by trusted and highly qualified craftsmen according to the best Italian goldsmith tradition using the latest technology. Alex Jona hallmark 404TO guarantees the origin of the product and the precious metal content is confirmed by the official gold hallmarks. All diamonds used are purchased from legitimate sources and conflict free. Only diamonds of the highest quality standard in terms of Clarity, Color and Cut are used.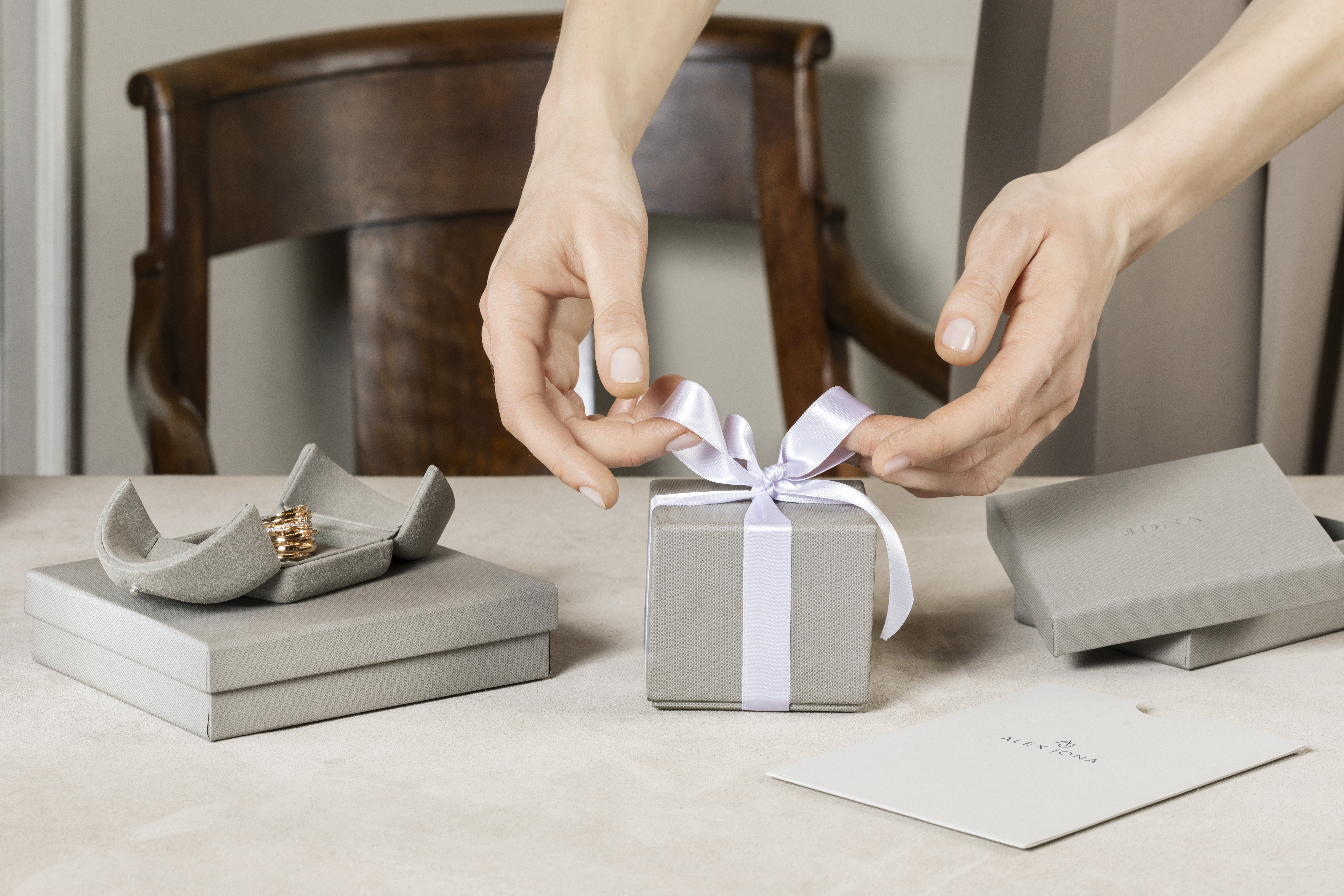 18 Karat White Gold
18k (75%) gold is the purest form of gold used for jewelry (pure 100% gold is 24 karats by definition). 18k means that 18 out of the 24 parts that make up the gold are pure gold. 18k white gold is an alloy made up of 75% pure gold and 25% palladium.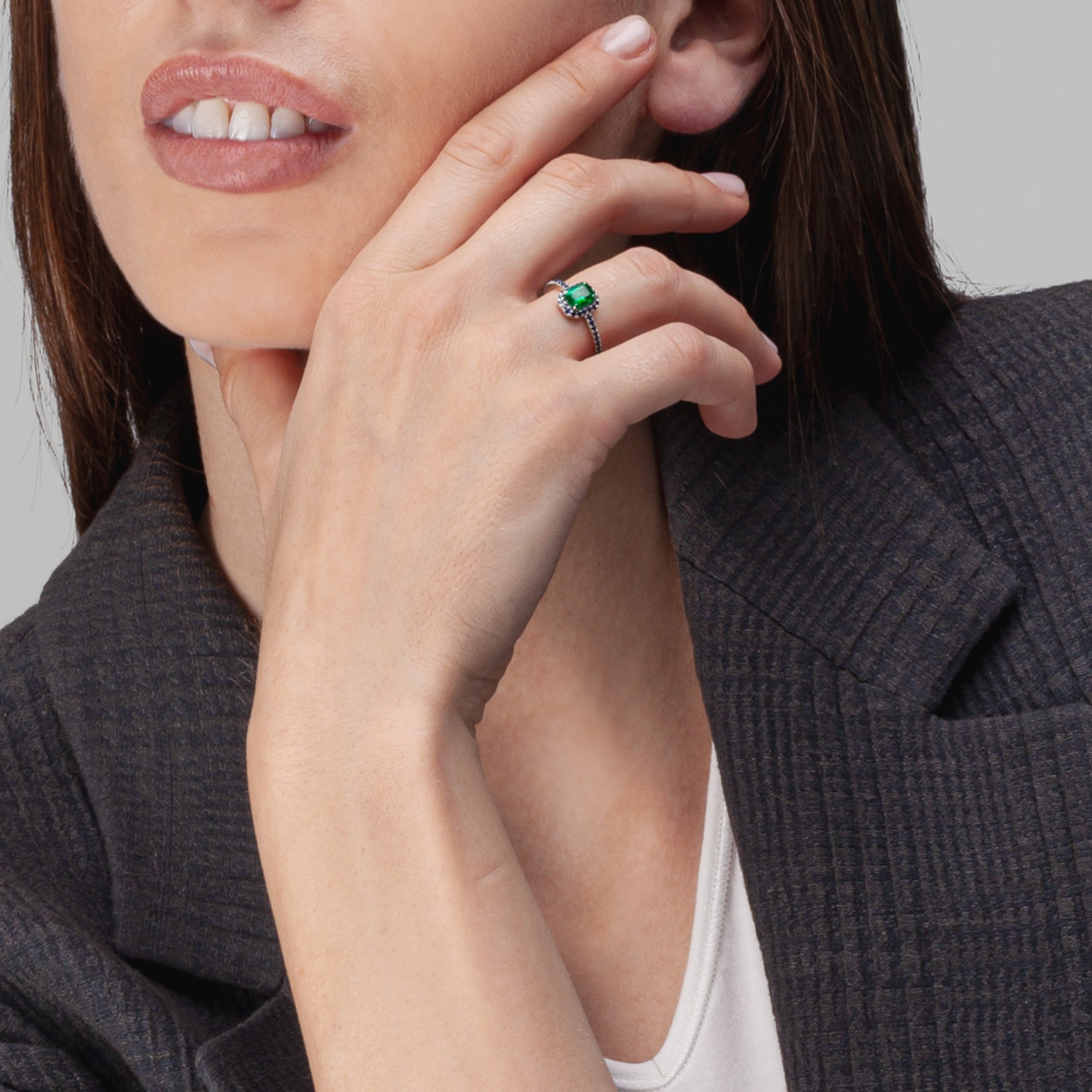 Rhodium Plating
Rhodium comes from the platinum family and is a noble and durable metal which features a bright white color. Rhodium plating is used on silver, gold and copper gives an off-white color, creating a bright mirror-like finish. More benefits of rhodium plating include enhanced brightness, scratch and tarnishing resistance. It is also hypoallergenic and nickel-free.
Emerald
Probably the most expensive gemstone, the emerald is a member of the beryl family and can be valued higher than diamonds. Ranging in color from pure green to blue-green, the more vivid the tone, hue, and color consistency, the better the stone. Emeralds are the rare exception to the rule that inclusions are bad. In fact, gemologists use these flaws as evidence of the gem's authenticity. The gem's center should be as flawless as possible. Emeralds rate a solid 7.5 to 8 on the Mohs Scale, making them an excellent choice for jewelry. As May's birthstone, the emerald is said to offer the wearer protection from evil spirits, provide the gift of eloquence and arouse both the intellect and the heart. Colombian emeralds are generally the most prized due to their transparency and fire.
Blue Sapphire
Sapphires are, together with Rubies, the most popular gem varieties of Corundum. With a Mohs scale rating of 9, Corundum is the second hardest mineral, second to diamond. Sapphire is any color of corundum except red (Rubies are red corundum). Vivid, transparent blue is the most rare and prized color. Stones from Kashmir or Burma are often fine quality and are highly coveted. As with rubies, some cabochon cut stones exhibit a cat's eye or 6-rayed star. With a rating of 9 on the Mohs Scale, sapphires are extremely durable and ideal for jewelry. As September's birthstone, the sapphire symbolizes truth, love, wisdom and generosity.