Enjoy complimentary shipping on all orders
https://www.alex-jona.com/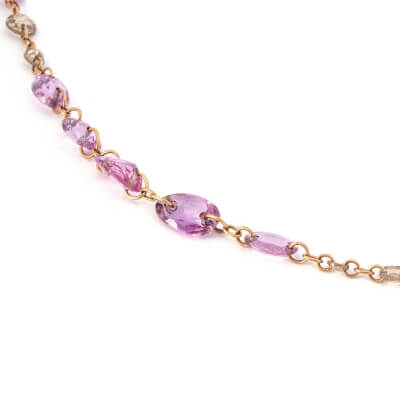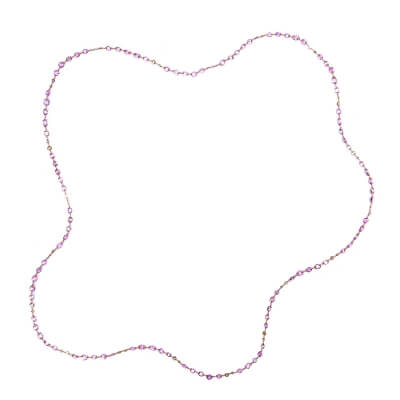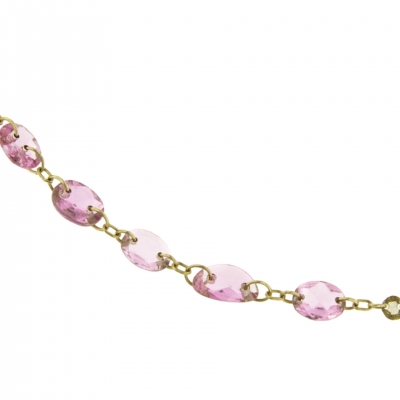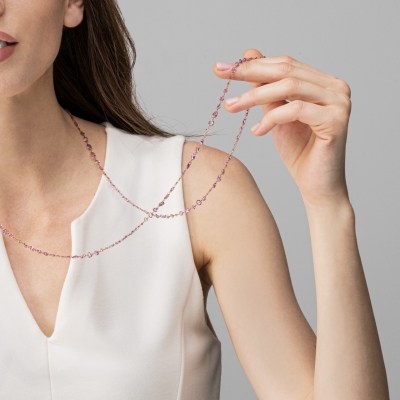 Pink Sapphire Brown Diamond Rose Gold Long Necklace
Alex Jona design collection, hand crafted in Italy, long necklace, featuring 35,65 carats of flat cut Pink Sapphires and 2.74 carats of Brown Diamonds, drilled and linked in 18 Karat rose gold.
Dimensions
Depth: 0.15 in. (3.81 mm)
Length: 40 in. (1016 mm)
Gemstones
Pink Sapphires: weight 35.65 carats in total
Brown diamonds: weight 2.74 carats in total
Weight: 10.42 gr
This piece has been hand manufactured by trusted and highly qualified craftsmen according to the best Italian goldsmith tradition using the latest technology. Alex Jona hallmark 404TO guarantees the origin of the product and the precious metal content is confirmed by the official gold hallmarks. All diamonds used are purchased from legitimate sources and conflict free. Only diamonds of the highest quality standard in terms of Clarity, Color and Cut are used.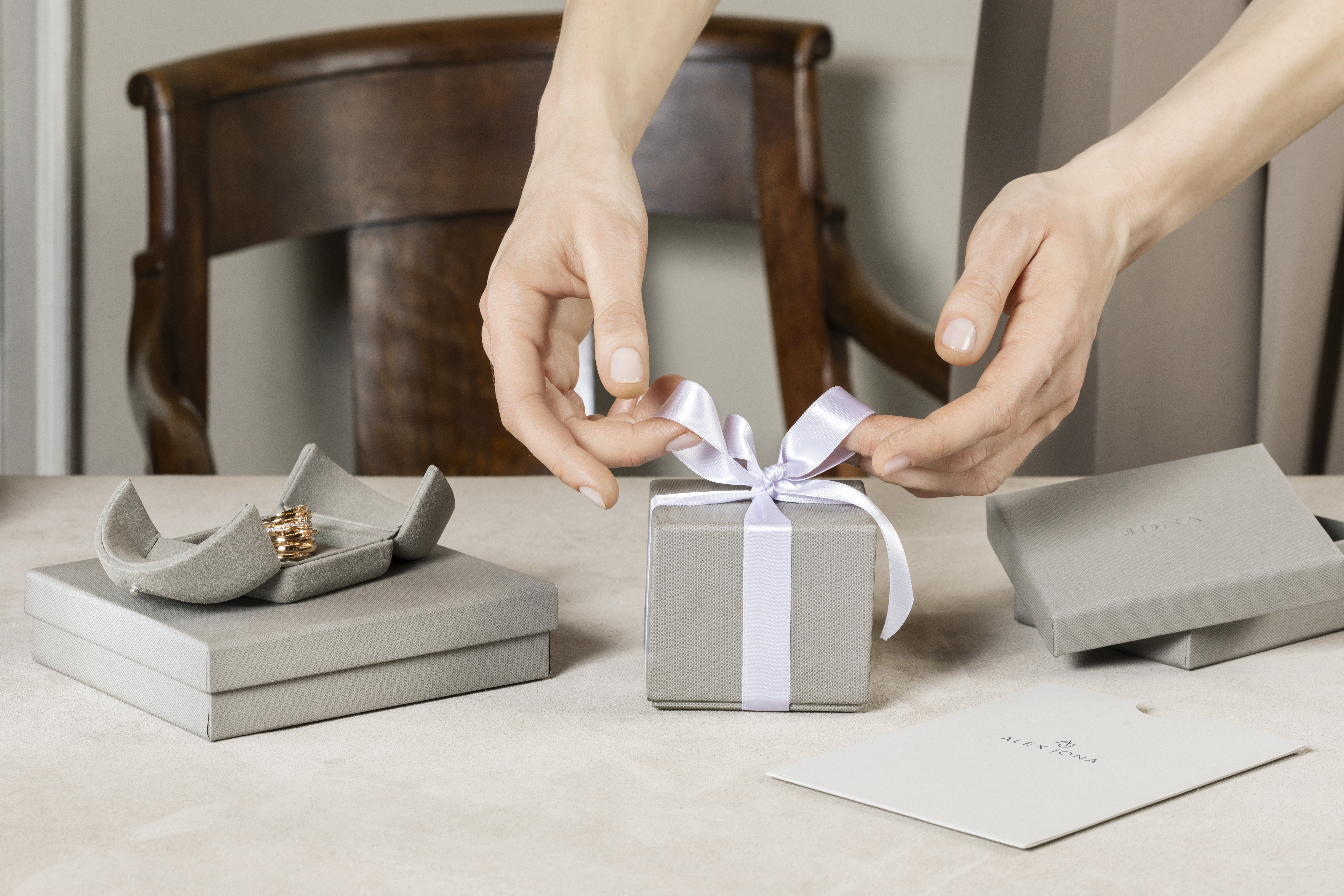 18 Karat Rose Gold
18k (75%) gold is the purest form of gold used for jewelry (pure 100% gold is 24 karats by definition). 18k means that 18 out of the 24 parts that make up the gold are pure gold. The most common hallmark stamps for 18 karat gold are 18K or 750 that indicate 75% gold purity. Rose gold is an alloy also known as pink gold and red gold. Although the names are often used interchangeably, the difference between red, rose, and pink gold is the copper content: the higher the copper content, the stronger the red coloration. 18K red gold means 75% gold and 25% copper. 18K rose gold means 75% gold, 22.25% copper and 2.75% silver. 18K pink gold means 75% gold, 20% copper, 5% silver.
Pink Sapphire
Pink sapphires belong to the corundum family of minerals. They contain traces of iron, titanium, magnesium, copper and chromium that help determine its color. The higher the chromium content, the deeper the pink hue. In some cases, it's difficult to distinguish a pink sapphire from a ruby. Only a gemologist will be able to make this distinction. The leading producer of natural pink sapphires is Madagascar. Pink sapphires were considered incredibly rare prior to the 1990s when the Madagascar mines were discovered. Pink sapphire mines are also present in Myanmar, Sri Lanka and East Africa. A pink sapphire's place of origin doesn't usually impact its price or value. Many cultures and people believe pink sapphires symbolize trust, loyalty and sincerity. They're also believed to carry good fortune and intense love.The increase in popularity of pink sapphires has sparked the number of pink sapphire engagement rings on the market. Many brides prefer the unique, feminine color to a white diamond or blue sapphire. For weddings with a blush or baby pink color scheme, pink sapphires are the perfect compliment.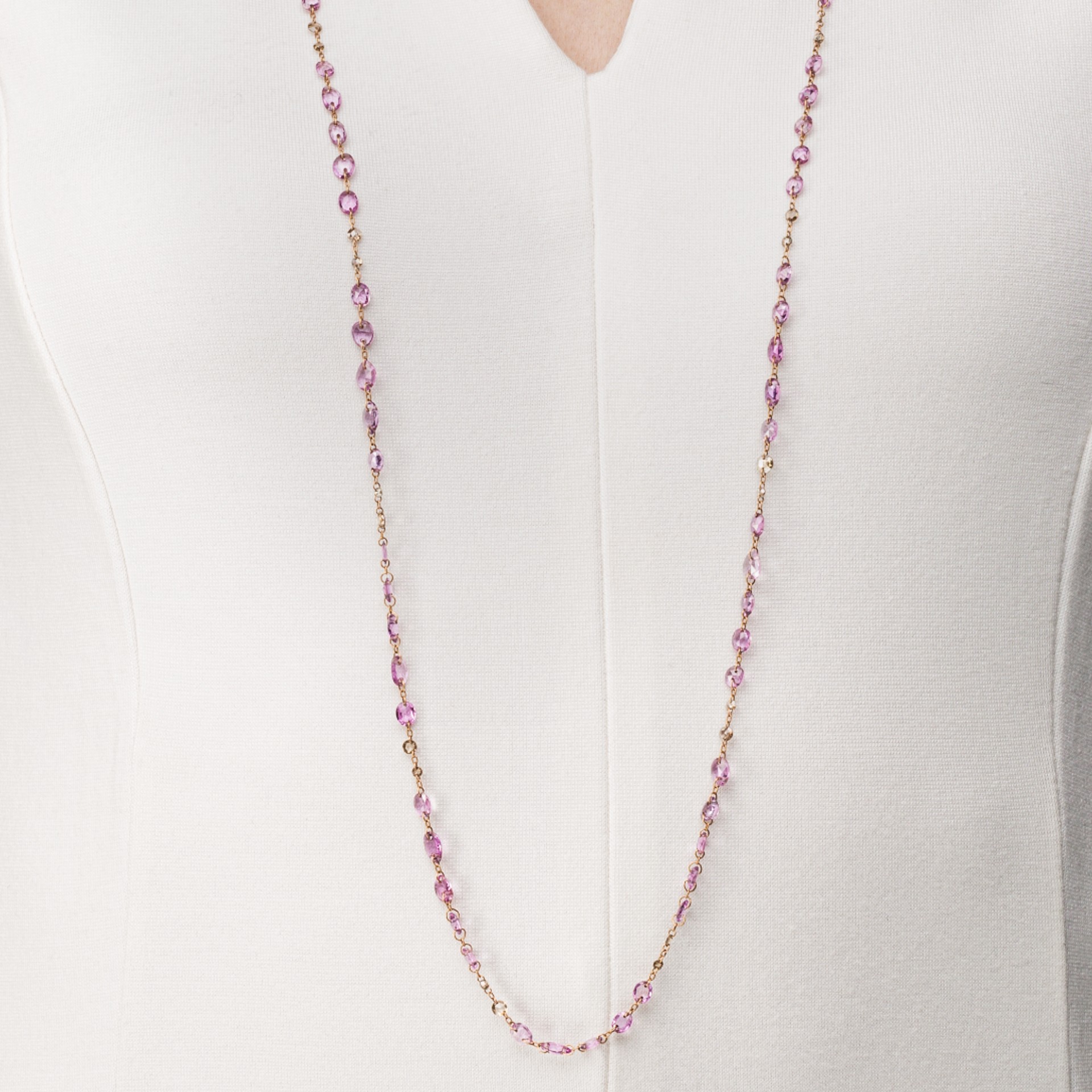 Brown Diamond
Sophisticated and down-to-earth, Brown diamonds range from light to fancy, deep and dark often accompanied by a touch of orange, yellow and even pink, with names like Chocolate Brown, Cognac and Champagne – brown diamonds are simply enchanting.Champagne diamonds, the most famous shades of browns, combine light yellow or pink along with the brown. Next follows the chocolate brown diamond shade which refers to the pure dark brown diamonds. Cognac diamonds feature a secondary tone of orange.
You might also like
Necklace 18 Karat white gold, featuring 64.44 carats of flat cut blue sapphires, drilled and linked.